Hello!
It is time for another update.
New stuff:

Downloads are now split up into an x86 version (32 bit) and an x64 version (64 bit). I ran into some out-of-memory problems on the 32 bit version when rendering longer WAV files which was not happening in the 64 bit versions. Therefore I decided to at least make the 64 bit versions available until I find a solution to the real problem :)
Added a new effect visualizer for debugging voice and instrument effects (see image below). Access it from the player/visualizer window with the "open effects" button.
Added a new optional mixing component that is trying to clean up the mix by inserting peaking EQ cut filters to prevent too much overlap in the frequency spectrum. It is available in the "mixing" tab when selecting a song.
Instrument effects can now be mapped and exported to MIDI control events (Pro Version only). You can access the settings within the MIDI "effects map" tab
Added an experimental MIDI playback mode (Pro Version only). Enable in first in the File -> Settings -> Experimental tab. Then you can select an output MIDI device in the "MIDI" tab. MIDI playback is then available on songs, templates etc.
Settings are now saved when closing the various settings windows
Made it easier to change parameter values on some filters such as EQ stereo spread, biquads etc.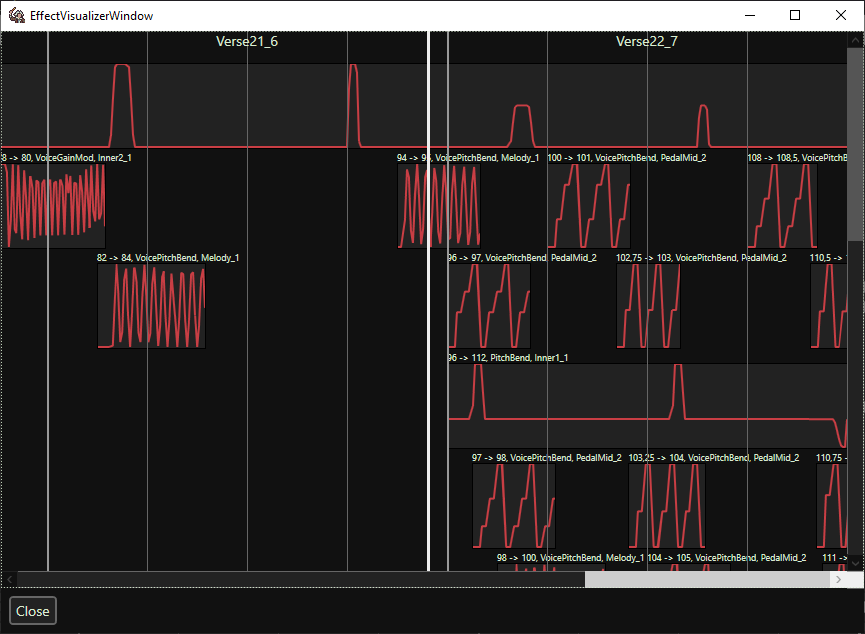 Effect visualizer
Bye!

Files
WaveBots Editor Demo x86 (32 bit)
63 MB
Version 0.0.27
Sep 24, 2022
WaveBots Editor Demo x64 (64 bit)
69 MB
Version 0.0.27
Sep 24, 2022
WaveBots Editor Full x86 (32 bit)
63 MB
Version 0.0.27
Sep 24, 2022
WaveBots Editor Full x64 (64 bit)
69 MB
Version 0.0.27
Sep 24, 2022
WaveBots Editor Demo x86 (32 bit)
63 MB
Version 0.0.19
Jun 02, 2020
WaveBots Editor Demo x64 (64 bit)
69 MB
Version 0.0.19
Jun 02, 2020
WaveBots Editor Full x86 (32 bit)
63 MB
Version 0.0.19
Jun 02, 2020
WaveBots Editor Full x64 (64 bit)
69 MB
Version 0.0.19
Jun 02, 2020
Version 0.0.19
Jun 02, 2020